Location: Founders Plaza
Season: May-June; September-October
Opened: 2008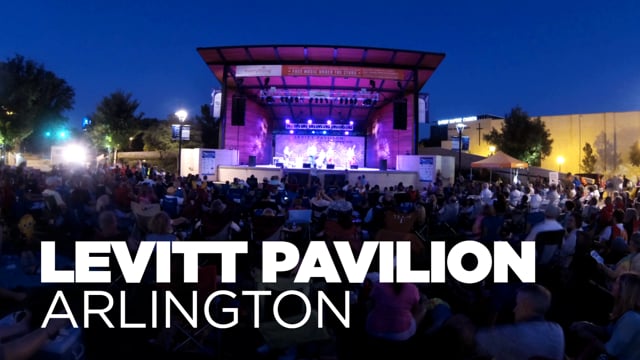 info@levittarlington.org
817.543.4308
100 W. Abram Street
Arlington, TX 76010
Levitt Pavilion Arlington is the "crown jewel" of revitalization efforts in the city's downtown. In addition to attracting record-breaking crowds every year, Levitt Arlington has helped transform a once dormant area of downtown into a thriving citywide destination. The Levitt is the centerpiece of the Arlington Cultural District, designated by the state of Texas in 2016.
The story of Levitt Arlington begins with an inactive downtown in desperate need of revitalization. Despite having a population of over 350,000 residents, Arlington had always been a bedroom community serving nearby Dallas and Fort Worth. Locals often headed to these cities for their dining, arts and cultural experiences.
Eager to revive its downtown core, city leaders and engaged citizens came together with the national Levitt organization to bring the Levitt program to Arlington. There was no bandshell in the downtown, so Levitt Pavilion Arlington was constructed on the grounds of the new Founders Plaza, directly across the street from City Hall. Since Levitt Arlington's opening, nearly a dozen restaurants have opened in the vicinity, with more on the way. Levitt Arlington has also served as a catalyst for major investment from the University of Texas at Arlington, which shifted its $300 million expansion into the downtown area with new residences, shops, restaurants, parking and an indoor performance venue.
Past performers on the Levitt Arlington stage include a range of emerging and renowned artists, including Pentatonix, Ray Wylie Hubbard, The Kildares, multiple GRAMMY-winning Asleep at the Wheel, The Polyphonic Spree, The Quebe Sisters, Brave Combo and John Fullbright.