Location: Dave Hall Plaza
Season: June-September
Opened: 2018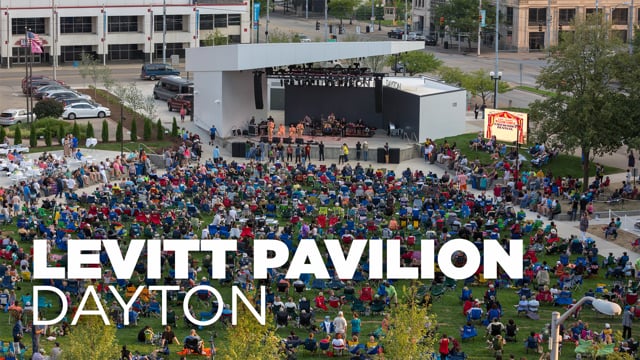 info@levittdayton.org
937.281.2144
2313 Far Hills Avenue, Suite 194
Dayton, OH 45419-1512
Levitt Pavilion Dayton is located in Dave Hall Plaza—an underutilized public space sitting at the southern gateway to the city's downtown. As part of Dayton's ongoing reimagining of its downtown, the new Levitt venue plays a major role in the revitalization of Dayton's core, making it a welcoming destination for all.
Throughout its history, Dayton has made a name for itself as a hub of innovation, with inventions including the airplane and the self-starting automobile engine coming out of this Midwestern city. It also boasts a philosophy of inclusiveness, priding itself on welcoming everyone to make Dayton their home. Embodying these ideals, the city's leaders and residents recognized the value of establishing a permanent outdoor Levitt music venue that would serve as an anchor for community life in the heart of downtown, easily accessible to Daytonians of all backgrounds.
The Levitt Pavilion is key to Dayton's The Nine redevelopment strategy, which repositions a once challenged and dormant nine-block area as a lively neighborhood centered around Dave Hall Plaza as a central park. The area is being redesigned to include offerings for all Daytonians from throughout the region, providing a range of dining and entertainment options, including the free Levitt concerts.
With its first annual season of free concerts having begun in August 2018, Levitt Pavilion Dayton has become a gem of the Gem City.
Read more about Levitt Pavilion Dayton in reVerb, the Levitt blog.