Location: Overton Park
Season: May-June; September-October
Opened: 2008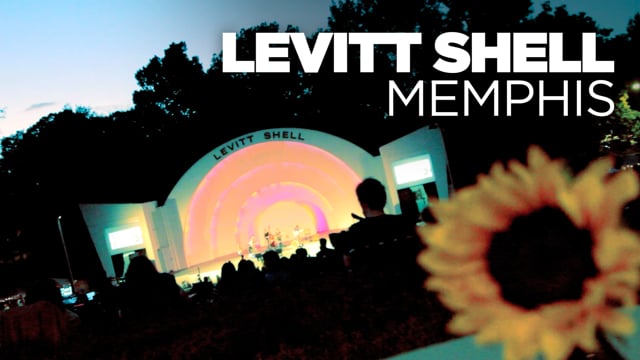 info@levittshell.org
901.272.2722
1930 Poplar Avenue
Memphis, TN 38104
Following an expansive renovation of a dilapidated, yet iconic, WPA-era outdoor bandshell steeped in rich musical history, the site of Levitt Shell Memphis is once again a gathering place for the entire city, bringing hundreds of thousands of Memphians together since its opening to experience free music under the stars.
The history of Levitt Shell Memphis begins with a beloved bandshell in a beautiful park setting. A shell first made memorable as the Memphis Open Air Theater, where free orchestra performances, light opera and musicals marked its early heyday. A shell where Elvis Presley made his professional debut in 1954, and where countless other legends graced the stage, including Johnny Cash, Webb Pierce, Booker T. Jones, even the Grateful Dead.
Years later, this same bandshell stood dormant and run down, attracting criminal activity and in grave danger of being razed to make room for a parking lot. Beginning in the 1970s, community and civic leaders fought to preserve the shell through various campaigns like "Save the Shell," but they struggled to raise sufficient funds to ensure its viability. By 2004, the City of Memphis had closed the shell, citing numerous code violations and deeming it a liability. Fortunately, this closure was short-lived. By 2005, the national Levitt organization began working with the City and local residents to support the shell's expansive revitalization and to bring back consistent, free programming. In September 2008, the shell re-opened as the Levitt Shell, continuing a 75-year tradition of bringing Memphians together.
Levitt performers on the iconic stage have included Lisa Marie Presley, The Bo-Keys, Squirrel Nut Zippers' Jimbo Mathus, Carolyn Wonderland, St. Paul & the Broken Bones, The Dunwells and GRAMMY-winning artists Booker T. Jones and Brave Combo.